Awarded Restaurant of the Year
The Eatery is honored to have been awarded Restaurateur of the Year by the Nebraska Restaurant Association on April 9, 2017.
---




Welcome to The Eatery in Lincoln, Nebraska
Fresh, Fast & Friendly come Together at The Eatery
Have an appetite for a taste of home but can't find the time to make it yourself?  We feature something for everyone with Breakfast all day, Pizza, Burgers, Pastas, Seafood, hearty Entrees with vegetarian & gluten-free options plus a Garden Fresh 50-item Salad Bar, Junior Menu meals, fresh baked TrEATERY desserts and Beer, Wine & Cocktails for the adults.
The Eatery is here to serve you as a one-of-a kind find that's locally owned & operated right here in the heartland of Lincoln, NE.
The Eatery's offerings don't stop there! Check out our weekend Prime Rib Dinner Special or our Lunch Combos.
Besides great menu choices, The Eatery extends a Loyalty Rewards Program to our guests and a Private, Reserved Dining Room is available for professional and private gatherings to meet in the middle of Lincoln.
Regardless of what you choose, all our dishes are served with generous table-side hospitality in comfortable surroundings to make your dining experience one of the best here in Lincoln.
At The Eatery, you're welcome here.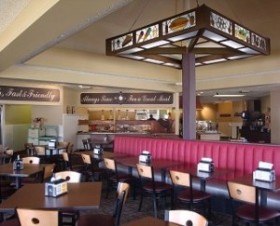 Casual Comfortable Dining conveniently located in the center of Lincoln, between Van Dorn & Normal on South 48th Street
---