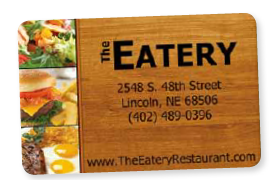 Our GIFT CARDS fit every occasion...
Your family and friends will be so excited to receive our gift cards, you may be asked to come along. Simply stop by and we'll get your gift giving all wrapped up OR go to https://theeateryrestaurant.cardfoundry.com/giftcards.php to order online.
Want to receive a GIFT for yourself? Become a Loyalty Member and when you purchase a gift card of $50 or more, YOU receive a 10% bonus to enjoy at The Eatery.